DRAGONS IN PARADISE (PLUS)




Those who think they want to escape the busyness of their contemporary lives to find peace and tranquility in a mountain valley might want to read George Sibley's Dragons in Paradise (Plus) before making that final decision.
Sibley, who moved to the Colorado mountains from Pittsburgh, PA, in the 1960s, explores many aspects of mountain living in 20 essays.


Dragons in Paradise was initially published in 2004 by Mountain Gazette Publishing. This new edition – Dragons in Paradise (Plus) – has been published by Raspberry Creek Books of Gunnison. It includes a few of the (updated) original essays and features many new ones.

"George Sibley is an intriguing and ornery cuss with a lot to say and he says it mighty fine. He believes in loving the place you live in and remaining committed to it for life. An honored teacher, courageous founder of the important Headwaters Conference, and a writer after my own heart, George is the real thing. He thinks, he laughs, he analyzes, he has hope, and he knows whereof he speaks. These essays are fun, they're important, they're insightful, they are a wonderful history of this part of the West. Ed Abbey, it's time to pop another top: let's welcome this new sheriff to town."
John Nichols, author of The Milagro Beanfield War and The Magic Journey
"George is driven by the desire to understand the world, to explain that world to people who may be interested, and to improve the world in light of that understanding. In that sense, he's an idealist, who does not understand what drives others of us to look out so strongly for ourselves. He is confused because he understands so clearly that there is no salvation for the individual, but only for the group.
Ed Marston, publisher emeritus of the High Country News
GEORGE SIBLEY – ABOUT THE AUTHOR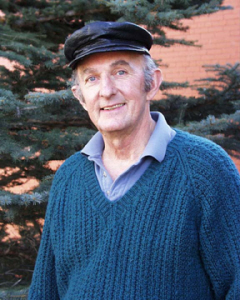 George Sibley was born and raised in Western Pennsylvania, but indisputable math indicates that he was conceived in Colorado, by two Colorado natives; he considers himself a default Colorado native. After graduating from the University of Pittsburgh in 1964, he returned to Colorado, where he has lived ever since, primarily in the Upper Gunnison River valley on Colorado's West Slope. Skiing brought him to the Upper Gunnison, but he stayed for the valley. In his earlier years he worked in Crested Butte as a ski patrolman, then newspaper editor, then a freelance writer for a variety of publications, most of which did not pay very much, so he also worked at a variety of odd jobs, part-time or seasonal, including construction, bartending, forest-fire fighting, and back-country winter caretaker.
In the late 1970s, he and his partner Barbara Kotz and their son and daughter, Sam and Sarah, moved for several years to the adjacent North Fork valley, where he worked as sawyer at a small sawmill with winters off for writing. That was followed by a few years in pursuit of the higher education at Colorado State University in Fort Collins, Colorado.
In 1988 he got the chance to return to the Upper Gunnison valley, to teach journalism and writing courses, and regional and environmental studies at Western State College of Colorado in Gunnison (now Western State Colorado University). He also coordinated special projects for the college, including the college's annual fall Headwaters Conference, summer Water Workshop, and spring Environmental Symposium.
He retired from the college in 2007, and became involved in western water issues; he currently serves on the board of the Upper Gunnison River Water Conservancy, and is education coordinator of the Gunnison Basin Roundtable.
As a writer, his most recent major work was Water Wranglers, a commissioned history of the Colorado River District and the development of Colorado's share of the Colorado River, published in 2012. Books prior to that were the first edition of Dragons in Paradise (2004, Mountain Gazette Publishing) and Part of a Winter (1977, Crown Publishing), both essay collections about life in the Colorado Rockies. He has also written numerous essays and articles that appeared in nationally distributed publications (Harper's Magazine, Technology Illustrated, High Country News, New Age Journal and Old West), and in regional publications like Colorado Central and Mountain Gazette. A list of his essays and other writings is available at www.gard-sibley.org/george.html.
He lives in Gunnison with his second partner, Maryo Gard Ewell, a longtime Colorado arts administrator and friend. He continues to "essay" when not immersed, as it were, in water issues.


Raspberry Creek Books, LTD - Gunnison, Colorado - Tulsa, Oklahoma
Copyright 2015